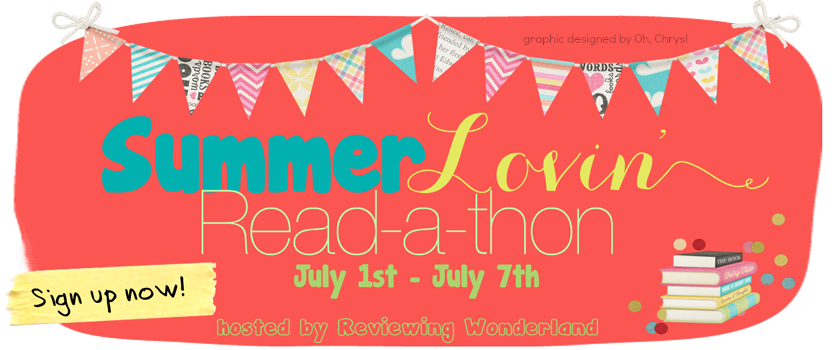 (Organized and hosted by Oh, Chrys!, Tumbling Books, Effortlessly Reading, Love Life Read, Shelf Addiction, Read Sleep Repeat, and Reviewing Wonderland)
Woo-hoo! It's here! The start of Summer Lovin' and since it's the first day, here are my goals including the books I plan to read. Although really looking at my TBR pile, I might tackle a different sent of books.
So hi from Albuquerque, New Mexico! Where I've been doing the daily rain dance because we're under a heat wave and need the rain. Since I hate dancing looks like I'm doing something wrong because there's no rain. Nothing exciting ever happens in the city, but Johnny Depp is in town filming! I have yet to find him to kidnap him. 😉
I read a variety of genres mostly mystery / suspense / thrillers and historical fiction. I'm a costume drama aficionado and a closeted James Blunt fan. I also have way too many fictional boyfriends (I hope they don't fight over which one I love the most).
---
Challenge 01: Teaser Tidbits
• Grab the book you're currently reading (or recently read)
• Open to a random page
• Share two (2) "teaser" sentences from somewhere on that page. NO spoilers allowed! Choose passages void of spoilers. The goal is to entice, yet not ruin the book for others!
• Share the title & author, so that other participants can add the book to their TBR lists if they like your teasers!
• Last and but not least, link up your post using the InLinkz below so that others participants can check out your post! You must link up in order to get your participation entry point! You MUST enter using the InLinkz to get your point.
I've decided to share a teaser from the book I just finished earlier in the day because it's on my mind. It's from Jaci Burton's Taking a Shot and let me set up the scene. Tyler Anderson is a hockey player and he's playing video games and vows never allow his children to play video games because they are violent. He's just thinking about having sons and then it dawns on him, what if he has a daughter?
Or, God forbid, he'd have girls and he'd end up playing some games that had to do with rainbow ponies. Or Barbie. Or something Disney related. Yikes.
Related Posts