We have a double header for today's cover reveal! Both of them are for Molly McAdams' upcoming releases: Trusting Liam and Changing Everything. I personally can't wait for Changing Everything. What about you?
*
*
*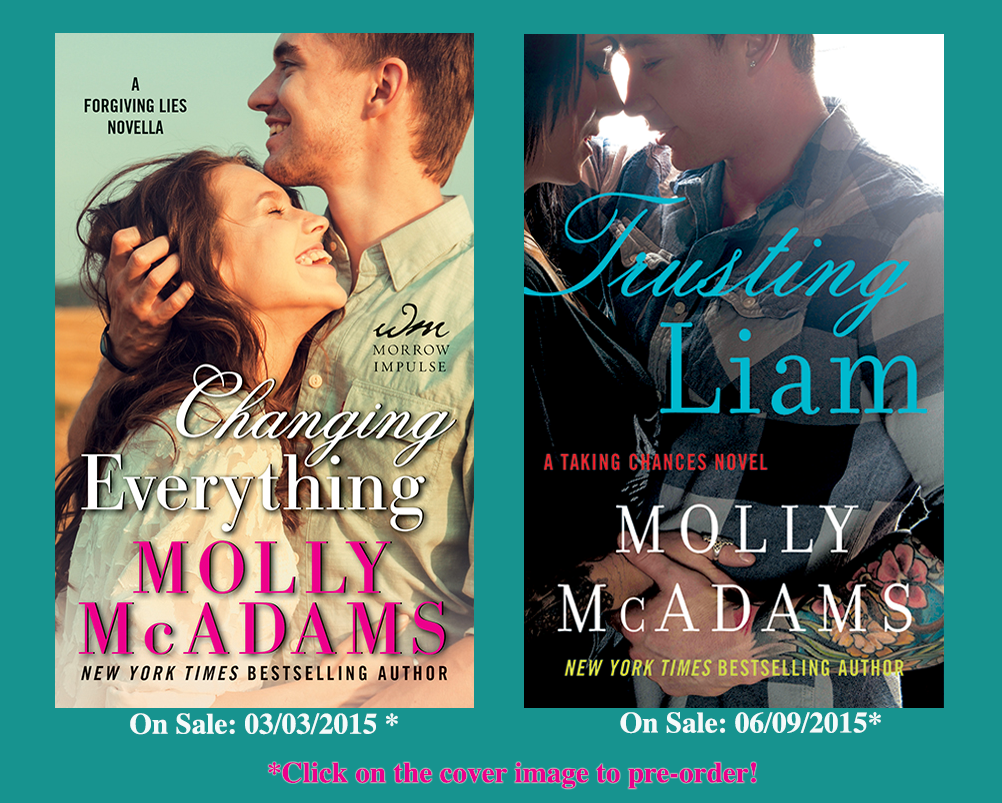 Title:Trusting Liam
Author: Molly McAdams
Publication date: June 04, 2015
Series: Taking Chances #2
Genre: Contemporary Romance
Synopsis:
When Kennedy Ryan moves to California, she never expects to come face-to-face with Liam Taylor-the intriguing man she hasn't been able to forget. Somehow Liam managed to get Kennedy to let down her guard for a single night of passion that ended up meaning more than it was ever supposed to. Accustomed to disastrous experiences with men, Kennedy shields herself before he can break down more of the carefully built control she's clung to for the last four years. But every time she sees Liam, she feels her resolve weakening.
Liam Taylor has been asked to befriend his boss's nieces. But what starts out as a reluctant favor ends up leading Liam to the only girl who ever slipped away before morning-a girl he thought he'd never find again. And now that she's within reach, Liam's determined to never let her go.
When a secret from her past tests their relationship, will they be able to cling to the trust Liam has worked so hard to build?
Title:Everything Changes
Author: Molly McAdams
Publication date: March 03, 2015
Series: Forgiving Lies
Genre: Contemporary Romance
Synopsis:
Paisley Morro has been in love with Eli since they were thirteen-years-old. But after twelve years of only being his best friend and wingman, the heartache that comes from watching him with countless other women becomes too much, and Paisley decides its time to lay all her feelings on the table.
Eli Jenkins has a life most guys would kill for: Dream job, countless women, and his best friend, Paisley, to be the girl he can always count on for everything else. But one conversation not only changes everything between them, it threatens to make him lose the only girl who has ever meant anything to him.
When tragedy strikes his family and Eli is forced to reevaluate his life, he realizes a life without Paisley isn't a life at all. Only now, he may be too late.
Related Posts